About Us
Mrs.Rashmi Rekha Mohapatra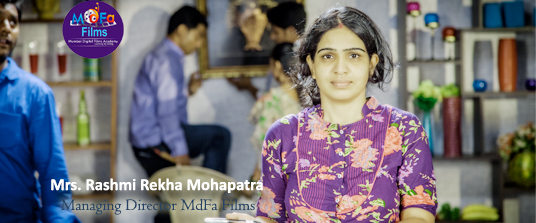 Mumbai Digital Films Academy
students work with professional filmmakers who share your passion and connect you first-hand with the craft and business of the film industry. Courses are designed to connect student's best & deepest talent to principle & theory.
We put a camera in their hand & we make them start making a film in their very 1st month of studies.
Every institute has the courses & syllabus fixed for all the students, but at MDFA we design the course as per the understanding & necessity of the student.
For that the film institute offers an exclusive method for selection of course and its duration. At Film Academy we conduct an aptitude test before the admission, this aptitude test is not for selection, it's for our counseling body to calculate approximately of student knowledge so that we can help him / her, to learn better.At mumbai digital films academy we give concentration to all the students, so we always keep in mind that the student & teacher ratio should be less. So we try to give 2/3 students per tutor. So we can take care of the student in a better way, & student can also clear their mind on spot and during practical also they get enough time to practice.
After completing her Film study from FTI , She started her journey As a creative Director from Doordarshan Kendra, Mumbai ,followed by News 24, CNN IBN ,Then she started teaching at various film school to learn the process . she was a creative director at Tele brand also.
Rashmi Rekha Mohapatra as the founder and Managing Director of MdFa Films, She provides leadership and technical oversight to the entire team. She oversees all projects while helping to insure the highest levels of usability, attention to detail creative development of MdFa films and maintaining communication with Students and client as She has a strong background of production and creative experience from industry, she focuses on identifying the most cost-effective way to achieve the client's goal. She provides the planning, guidance required to produce technically and creatively sound Project based on a strong understanding of the client's objective.