Cinematography and Lighting Course
Learn The art and Science of Digital Cinematography and Lighting Course at Best Cinematography Institute of Mumbai - Mumbai Digital Films Academy providing One Year Full Time & Six Months Certified Course
Digital Cinematography, is an upcoming and popular career option, DSLR Cinematography is becoming more and more popular day by day, but to get into Cinematography one must not only needs a passion for Cinematography but also the skill for it.
Students of Mumbai Digital Films Academy are educated the essentials of Cinematography, Digital Cinematography, Lighting, Composition and Camera Movements along with Basic of Film Making, film direction, Film Editing. Students are taught from looking at the script, to pre-production, production & post -production.
Students work with all types of Movie Camera ARRI 435, Red Epic, ARRI Alexa and DSLR Canon 5D.Students of Cinematography do a lot of short films and project to develop their skill and sense of taste. Student Get an Opportunity to work with different Directors and Actors. Student do get an opportunity to work on location with prominent Director of Photography from the industry.
Our Student do 15 Short Films in a Year.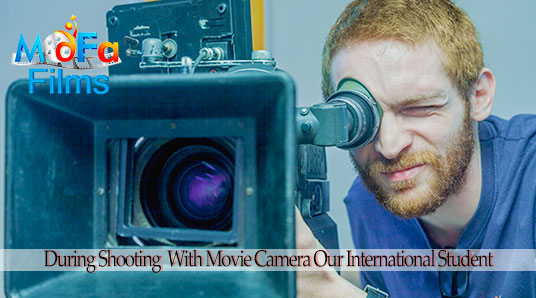 Duration - Cinematography Course
One Year Full Time Course in Film Direction - Weekly 5 days classes
Six Months Certified Course in Film Direction - Weekly 4 days classes
Three Months Short Term Course - Weekly 4 days classes
One Month Workshop Course in Film Direction - Weekly 3 days classes
Cinematographer: Career Information
Although some Cinematographer work on motion picture productions based in the motion picture centers of Mumbai or all over India. They work on different productions for local or regional television studios, or for video production companies.
Cinematography is the art and technology of motion-picture photography. It involves such techniques as the general composition of a scene; the lighting of the set or location; the choice of cameras, lenses, filters, and film stock; the camera angle and movements; and the integration of any special effects. All these concerns may involve a sizable crew on a feature film, headed by a person variously known as the cinematographer, first cameraman, lighting cameraman, or director of photography, whose responsibility is to achieve the photographic images and effects desired by the director.
Learning by doing
"Learning by doing" is our Moto which is strictly followed by faculty members of Mumbai Digital Films Academy.. Our faculty members pass on up-do-date practical skills and theoretical knowledge that is wholly relevant to a new generation of film makers. As our faculty members are active practitioners of this film industry, we recognize that they also need to be able to communicate their knowledge effectively and inspire those they teach.
Softwares :
DaVinci Resolve - Professional non-linear video editing with the world's most advanced color corrector
Assimilate SCRATCH - the highest levels of creative DI with SCRATCH
Adobe Premiere pro CS6 - Digital Non-Linear Editing to edit, manipulate, and export.
Adobe After Effects - Digital motion graphics, visual effects and compositing
Adobe Photoshop - Photography & photo editing,
Final Cut Pro - A non-linear video editing software used for Film & Video Editing
Syllabus for Cinematography Course
Post Production Tools
Digital intermediate and DCP
Basics of Sound Recording and Designing
Editing