Film and Video Editing Course
Learn Non- Linear Editing with Final Cut Pro7, Final Cut Pro X, Avid and Adobe Premiere Pro CC – Mumbai Digital Films Academy.Providing One Year Full Time & Six Months Certified Course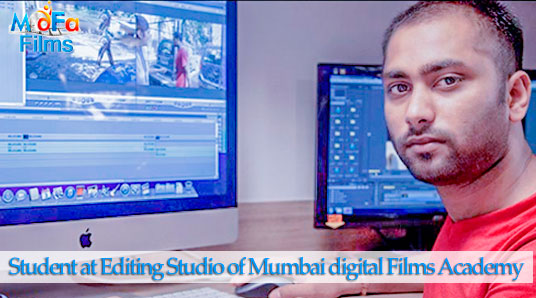 Film and Video Editing is an upcoming and popular career option, this is a key role in the post-production process. As a film or video editor, you'll be responsible for assembling recorded raw material into a finished product that's suitable for broadcasting. The material may include camera footage, dialogue, sound effects, graphics and special effects.
Students of Mumbai Digital Films Academyare educated from the fundamentals of Film and Video Editing, they work with existing drama material and rushes from their own individual projects to learn the creative and artistic part of Editing.
Students work with all types of Non-Linear Editing Software Starting from Adobe Premiere CC, Final Cut Pro7, Final Cut Pro X, Adobe After Effects and Avid - Media Composer.Student of Mumbai Digital Films Academy do get their hands on experience on Nuendo and Pro Tools for sound and Music Editing.Student gets expertise on color grading and Digital Intermediate with DaVinci Resolve and Assimilate SCRATCH.Students of Film and Video Editing do a lot of short films of different genres with different directors to develop their skill and sense of taste.
Our Student do 15 Short Films in a Year.
Duration - Film and Video Editing Course
One Year Full Time Course in Film Direction - Weekly 5 days classes
Six Months Certified Course in Film Direction - Weekly 4 days classes
Three Months Short Term Course - Weekly 4 days classes
One Month Workshop Course in Film Direction - Weekly 3 days classes
Film and Video Editing: Career Information
You may work on a variety of productions including, Feature films, television programs, music videos, corporate training videos, Commercials.
Your work as an editor will involve receiving a brief, and maybe an outline of footage and/or a shot list, script, or screenplay, assembling all raw footage, with camera shots either recorded or transferred onto video tape in preparation for inputting into the computer, inputting uncut rushes and sound, and synchronizing and storing them into files on the computer, digitally cutting the files to put together the sequence of the film and deciding what is usable, creating a 'rough cut' (or assembly edit) of the program /film and determining the exact cutting for the next and final stages, reordering and tweaking the content to ensure the logical sequencing and smooth running of the film/video.
Additional tasks may include overseeing the quality and progress of audio and video engineering and editing, experimenting with styles and techniques including the design of graphic elements, writing voiceover/commentary, suggesting or selecting music.
You may also carry out online editing duties which involve finalizing technical aspects such as correcting faulty footage, grading and coloring, and adding special effects.
Learning by doing
"Learning by doing" is our Moto which is strictly followed by faculty members of Mumbai Digital Films Academy.. Our faculty members pass on up-do-date practical skills and theoretical knowledge that is wholly relevant to a new generation of film makers. As our faculty members are active practitioners of this film industry, we recognize that they also need to be able to communicate their knowledge effectively and inspire those they teach.
Softwares :
Final Cut Pro7 - A non-linear video editing software used for Film & Video Editing
Final Cut Pro X - A non-linear video editing software used for Film & Video Editing
Adobe Premiere pro CC - Digital Non-Linear Editing to edit, manipulate, and export.
Nuendo - Sound and Music editing and Recording software used for Film & Video Editing
Pro Tools - A non-linear Sound and Music editing and Recording software used for Film & Video Editing
Adobe After Effects - Digital motion graphics, visual effects and compositing
Adobe Photoshop - Photography & photo editing,
DaVinci Resolve - Professional non-linear video editing with the world's most advanced color corrector
Assimilate SCRATCH - the highest levels of creative DI with SCRATCH