Film-Making
One year Diploma in Film-Making & Six Months Certified Course in Film-Making.
One of the
best Film-Making institute of Mumbai.
as per the student review.
The Film Making course at Mumbai Digital Films Academy is specially designed for those students who want to learn film-making & direction, with all technical knowledge including Cinematography, Sound Recording & Sound Designing, Editing & Post Production - DI (Digital Intermediate) Other than theoretical & aesthetic inputs in Film Direction, we add something very important in the Film Making Course, which are - hands on, practical training in all the technical departments of Filmmaking.
The aim is to make someone all-rounder in aspects of film making - so that she/he can become an independent Film maker.
Duration - Film Making Course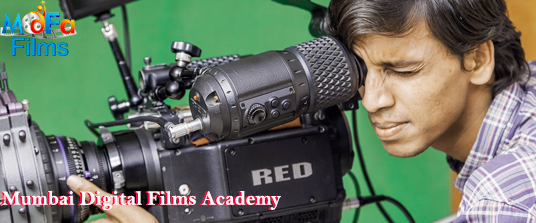 One Year Diploma in Film Making - Weekly 5 days classes
Six Months Certified Course in Film Making - Weekly 4 days classes
Three Months Short Term Course - Weekly 4 days classes
One Month Workshop Course in Film Making - Weekly 3 days classes
Career in Film making
Our students can join Film Industry, TV Industry, Adertisement Film; Documentary Industry .Every project has a Director & a Director must have complete knowledge of film making. You can start your career as an assistant director creative director, casting director.
Anyone can learn to be a film maker ,Film making is not rocket science. Everything about film making is extremely easy to learn. Anyone can do it if they accept the challenge of learning film making.
Film making requires learning a huge number of skills. Each skill is easy to learn but the number of things you must learn is huge. If you want to be an independent film maker, you must learn the equivalent of 20 different careers. Even if you are a fast learner, it can take you Years to learn everything.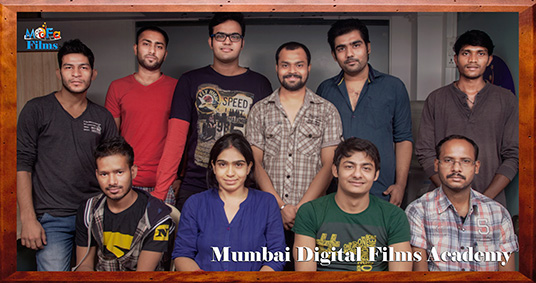 Our Student do 15 Short Films in a Year.
Learning by doing
"Learning by doing" is our Moto which is strictly followed by faculty members of Mumbai Digital Films Academy.. Our faculty members pass on up-do-date practical skills and theoretical knowledge that is wholly relevant to a new generation of film makers. As our faculty members are active practitioners of this film industry, we recognize that they also need to be able to communicate their knowledge effectively and inspire those they teach. We developed a policy of employing faculty member, on a freelance basis only, through trial workshops. Student feedback on these workshops is critical in the final selection of the faculty member.
Softwares :
Final Draft - Application Designed for scriptwriting
Steinberg Nuendo - Application used for Sound Recording, Editing & Sound Designing.
Adobe Premiere pro CS6 - Digital Non-Linear Editing to edit, manipulate, and export.
Adobe After Effects - Digital motion graphics, visual effects and compositing
Adobe Photoshop - Photography & photo editing,
Final Cut Pro - A non-linear video editing software used for Film & Video Editing
Assimilate Scratch - Post-production workflows & Digital Intermidiate
Syllabus for Film Making
Acting
Film & Television Production
Cinematography
Editing